Australian investors currently have $30 billion dollars invested in products that are specifically created as an ESG (environmental, social and governance) offering, which has grown by 37% in the 12 months to December 2018. Alongside this, balanced ESG superannuation options outperformed other balanced options in the 12 months to April 2019.
Australia currently has 141 signed and active ESG investment providers that have products aligning with the United Nations Principles for Responsible Investment (UNPRI), making Australia the fourth most active country for ESG investment awareness.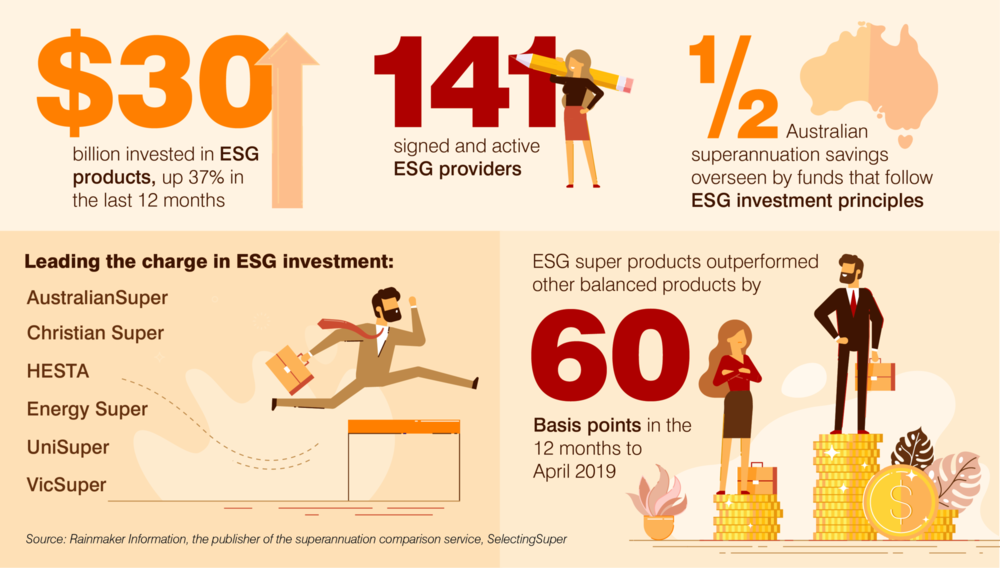 One quarter of Australia's ESG investment providers are superannuation funds and almost half of Australia's superannuation savings are overseen by funds and investment managers that follow ESG investment principles.
These insights are revealed by Rainmaker Information, which publishes the superannuation information portal SelectingSuper.com.au.
The latest analysis further indicates that ESG superannuation investment options are among some of the better performing options across one, three, five and ten years.
AustralianSuper's 'Socially Aware' option is the best option over 10 years in the balanced sector, HESTA's 'Eco-Pool' growth option is the fourth best over ten years and fifth best over five years in the growth sector, while WA Super's 'Sustainable Future' option is the sixth best balanced option. This performance is all relative to the three years to April 2019.