Under one in four superannuation products meet or beat AAA quality benchmarks
SelectingSuper Media Release - Thursday 7 February 2019
A total of 174 of Australia's leading superannuation products from a field of more than 700 have been awarded a Rainmaker SelectingSuper AAA Quality rating in a recent industry assessment.
The Rainmaker SelectingSuper AAA Quality Assessments are researched by Rainmaker Information and aim to dissect superannuation products in an attempt to uncover and reward the most authentic and credible superannuation offerings available for Australians to invest in.
Rainmaker assessed a marketplace of 750 superannuation offerings, an increase from the 721 products reviewed at the same time last year. Of the 173 ratings awarded in 2018, 24 products lost their rating while 25 new products surpassed benchmarks. Overall, only 23.2% of the superannuation market received the SelectingSuper AAA rating.
These Rainmaker SelectingSuper AAA Quality assessments are directly based on Rainmaker's independent superannuation research program that spans 3,000 investment choices, 2,500 fee options and 15,000 insurance policy options covering Workplace, Personal and Retirement products.
Alex Dunnin, the executive director of research at Rainmaker Information reinforces that "while regulatory bodies call for a 'best-in-show' list of funds, this quality assessment indicates a best of breed list of funds consumers should look for to see if their fund is meeting its objectives and providing the best service."
"Consumers who join these high quality funds are likely to retire with much more in their superannuation accounts. But finding these top funds and deciphering what they offer, what their returns are, or the fees they charge isn't always easy," said Dunnin.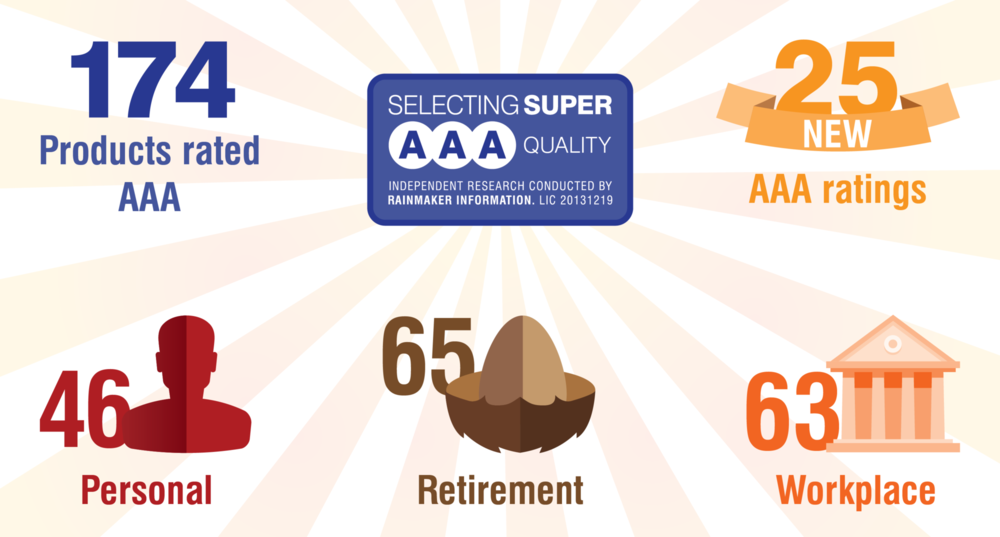 Dunnin said "the philosophy behind the Rainmaker SelectingSuper Quality Assessment Rating is the way we recognise what makes fund different. They serve different people differently. The Rating is indicator that the funds deliver on what they promise."
Of the 174 products, 144 were derived from not for profit (NFP) funds whilst the remaining 30 were retail based products.
AAA rated products are eligible to be considered in the upcoming Rainmaker SelectingSuper Awards, which will be held in November this year.
To view the full list of quality products visit the SelectingSuper website
To Browse a full list of super funds and their products

click here