Gross superannuation fees have fallen for the first time in six years, down to $32 billion.
Super fund members in Australia are now paying 1.1% in fees on average. This is down from the 1.2% they were paying in 2018.
This is the headline result from the 2019 Rainmaker Information super fund fee study that analysed fees charged by more than 500 superannuation funds and 50 self-managed super fund administrators.
Super funds are capitalising on their growth in assets under management, achieving greater economies of scale and reducing costs for their members.
"Super fund fees are approaching an average of 1%.These reductions show an industry shifting towards a greater commitment to improving super for the members," said head of superannuation at Rainmaker Information, Jason Ross.
"Australia's 13.5 million super fund members still pay $2400 on average each year in fees, the equivalent of the average household energy bill."
Of the 1.1% members pay in fees, 0.7% is paid for investment fees and 0.4% for administration and product related fees, on average.
Members pay different fees depending on their product type:
Workplace funds, those used by employers, charge an average 1.24%.

Personal funds, that members can join as individuals, charge an average 1.49%.

Retirement funds, for members who have retired, charge an average 1.33%.

Small self-managed super funds (SMSF) charge an average 0.80%.
The fall in gross fees was primarily a result of retail funds lowering their fees as a competitive reaction to members moving across to lower priced NFP funds.
In 2015 the average retail MySuper product charged 0.24% more than NFP MySuper products. Today this gap has narrowed to just 0.04%.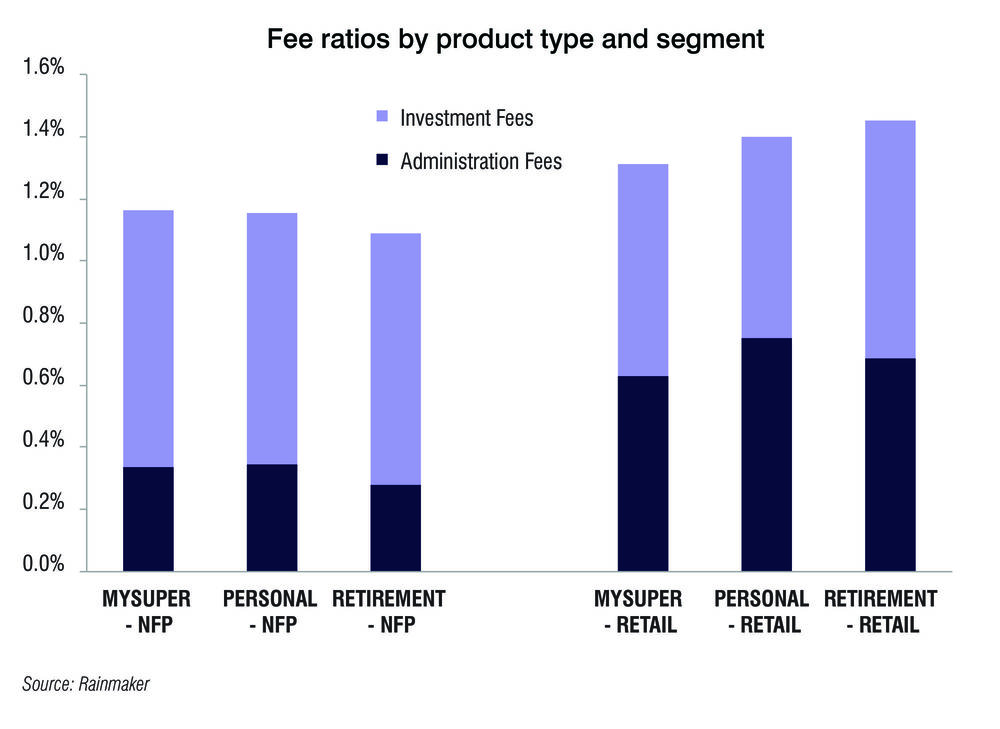 Super funds with the biggest reductions in their MySuper Total Expense Ratios between 2018 and 2019 were:
#
Product
Public Offer?
Segment
Change in TER
2018 TER
2019 TER
1
AMP Super Direct for Business
Yes
Retail
-0.97%
2.16%
1.19%
2
AMP SignatureSuper Select
Yes
Retail
-0.63%
1.84%
1.21%
3
AMP SignatureSuper
Yes
Retail
-0.63%
1.84%
1.21%
4
AMP SuperLeader
Yes
Retail
-0.63%
1.84%
1.21%
5
GROW Super
Yes
Retail
-0.50%
1.33%
0.83%
6
Hostplus
Yes
Industry
-0.39%
1.61%
1.22%
7
LGS Division A
Yes
Industry
-0.31%
1.63%
1.32%
8
ACSRF Employer
Yes
Industry
-0.28%
1.35%
1.08%
9
IAG & NRMA
No
Corporate
-0.25%
1.57%
1.32%
10
QSuper Accumulation
Yes
Government
-0.25%
1.04%
0.79%
Source: Rainmaker