Media Centre
---
SelectingSuper Media Release - Wednesday 12 July 2017
Millennial superannuation
The launch of several app-based fintech oriented superannuation products aimed at young tech-savvy members has put a spotlight on Millennial Superannuation.
Using APRA's nearest useful age classification, being members below age 35, Rainmaker analysis has found that in 2016 there were 9 million accounts and $110 billion in this segment. This equates to one-third of all accounts but only 8% of superannuation funds under management.
Millennial Super is dominated by industry funds which hold 58% of the segment's accounts and 54% of its FUM. Retail funds rank second but still trail way back in the distance with just 34% of accounts and 29% of FUM. See Figure 1.
Figure 1: Millennial segment share 2016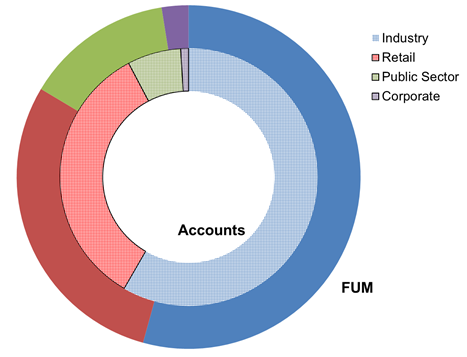 There are several ways to view Australia's leading Millennial funds: by Millennial members, by FUM owned by Millennials, by funds where Millennials make up the highest proportion of their accounts, and by funds where Millennials make up the highest proportion of their FUM.
Viewed this way, Australia's biggest Millennial super funds by members are the large industry funds REST, AustralianSuper, HOSTPLUS and Sunsuper which have exposures to industries that employ younger workers.
CBA, AMP, BTFG, ANZ and MLC (NAB) are major players as well for young members not accessing industry super fund default award nominated products.
It's a concentrated segment too as the top 10 Millennial funds have more than half the market segment. See Table 1.
Table 1: Australia's top 10 Millennial superannuation funds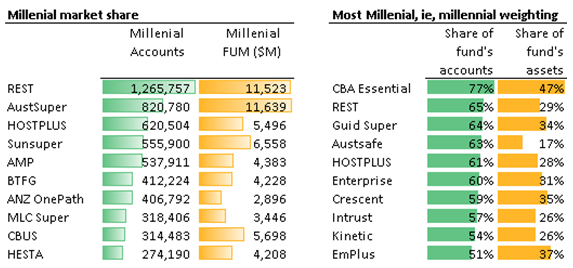 The second part of Table 1 also highlights the relative exposure of funds to Millennials within their fund. For example CBA Essential is Australia's most Millennial fund with 77% of all its accounts belonging to Millennials and 47% of the fund's total assets.
Rainmaker's conclusion is that while app-based fintech superannuation products are putting Millennial superannuation in the spotlight, these products are entering a ferociously competitive space already served by some of Australia's biggest, toughest and most experienced superannuation funds.