Media Centre
---
SelectingSuper Media Release - Wednesday 18 January 2017
Consumers the winners as MySuper competition heats up
Sydney, 18 January 2017: MySuper has become the new high-growth area for the retail superannuation funds as the private sector combines existing delivery expertise with attractive new MySuper offerings that compete directly with not-for-profit super funds.
MySuper products operated by retail groups like banks, insurance companies and advice groups account for one tenth of the MySuper segment but grew almost 5-times faster than MySuper products operated by not-for-profit funds such as industry super funds, public sector super funds or company super funds.
Bank-owned MySuper products, e.g., those run by the Big 4 retail banks, grew even faster at 62%.
Lifecycle investment strategies where members are allocated into investment choices depending on their age account for 33% of all MySuper products but they account for three quarters of all bank-owned MySuper superannuation account balances.
Banks are combining tech expertise with low fees to out-compete
Alex Dunnin, executive director of research at Rainmaker Information, said: "Australia's banking sector is aggressively pursuing the MySuper market with a suite of low cost products. They might be only a small share of the market now but their rapid growth and strong commitment to these new products shows that they intend to use their branch networks and technology experience to become major superannuation players."
"Essentially, people like to centralize their finances and banks are now offering them the opportunity to invest in low-fee superannuation that integrates into their online dashboards."
"This is a major strategic challenge to not-for-profit super fund groups that are used to dominating default super," added Dunnin.
Financial advice reimagined
"The way banks intend expanding in the MySuper segment is by using lifecycle investment strategies which they present to consumers as de facto financial advice. Based on the growth rates these products are seeing shows this strategy is proving to be very effective," added Dunnin.
Dunnin said these results illustrate how dynamic the MySuper market is: "Anyone who says MySuper isn't revolutionizing superannuation and driving competition isn't paying attention."
"Not all of Australia's biggest super funds are achieving top investment returns right now. Instead it's the innovative funds that are delivering most. While some of these top performers are well known superannuation brands, some less well known brands are showing themselves to be very effective superannuation managers," said Dunnin.
"In the lifecycle category, some of the bank owned retail super funds are showing themselves to be surprisingly sharp performers and they are giving not for profit funds a serious run for their money."
Banks responding to criticism
Dunnin said banks have been heavily criticised in the past for some of their higher fee super funds. It's clear from Rainmaker's MySuper report that these banks are now finally responding to this criticism and developing products that are innovative with low fees and competitive returns.
"Consumers who take the trouble to look into their superannuation will find many MySuper products that are very well run, delivering top returns and doing all this while charging much lower fees than they might have expected. It's like thanks to MySuper competition has finally come to superannuation," said Dunnin.
But Dunnin said to get this competition working for you, consumers need to monitor their funds at least once a year and choose funds as shrewdly as they choose their smart phone plans, video streaming services or bank mortgages.
What is MySuper?
MySuper products are default workplace super products used by hundreds of thousands of businesses across Australia. These default MySuper products are chosen for each workplace by employers, by their employees, or they are nominated through the industrial award of enterprise agreement the employees may be employed under.
Trends in MySuper
MySuper products are growing twice as fast as overall superannuation savings, highlighting how successfully the low cost streamlined MySuper product segment is transitioning to become the central core of Australia's superannuation system.
According to figures recently released by Australia's superannuation regulator, the Australian Prudential Regulation Authority (APRA), Australia's 111 MySuper products at end September 2016 were managing $492 billion.
While this is equivalent to 23% of Australia's entire $2.1 trillion in superannuation savings, MySuper products jumped 14% in the 12 month period which is twice as fast as the 7% growth for all superannuation.
This strong relative growth shows how fast Australians are turning towards these newer low cost high performing products and moving away from expensive superannuation legacy funds. This transition is causing a superannuation revolution.
Who's Who of MySuper
Australia's biggest MySuper products are Australian Super, First State Super, REST, QSuper and CBUS. All of these are operated by not for profit funds.
Australia's fastest growing MySuper products are EmPlus, AMP, Max Super, ANZ SmartChoice and IOOF Super. All of these 5 are operated by retail groups.
Australia's best performing single investment strategy MySuper products are MTAA Superannuation Fund, BUSSQ MySuper, StatewideSuper MySuper, UniSuper, HOSTPLUS. All of these are operated by not for profit funds.
Australia's best performing lifecycle MySuper products are QSuper Lifetime, Colonial First State FirstChoice, ANZ Smart Choice Super, Sunsuper for Life, Commonwealth Essential Super. Three of these 5 are operated by retail groups.
See the following table for details of the biggest, fastest growing and top performing MySuper products.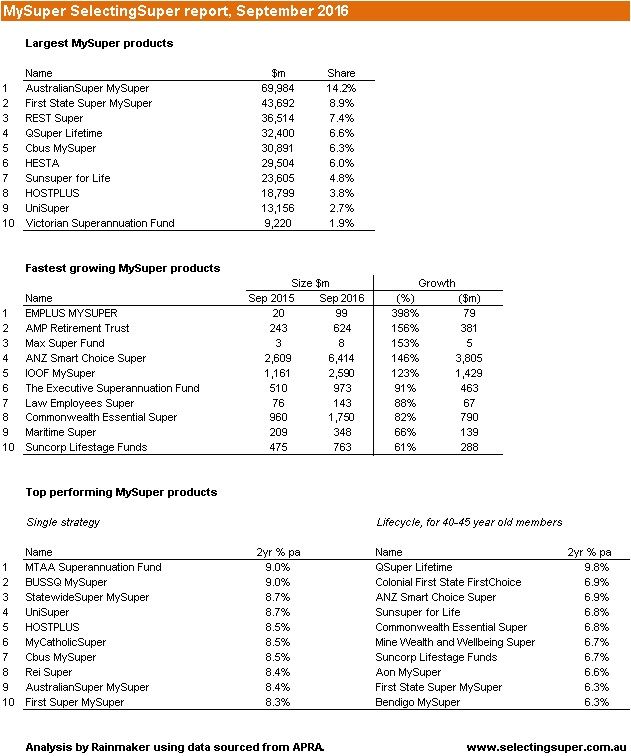 For media enquiries, please contact:
Matthew Shaw
p. 0451 152 602
e: [email protected]
About Rainmaker Information
Rainmaker Information is a privately held Australian company founded in 1992. The company has established a reputation as a leading financial services information publishing house in Australia providing marketing intelligence, research, media, events and consulting services and forms part of the Rainmaker Group of companies.
www.rainmaker.com.au
About SelectingSuper
Rainmaker SelectingSuper is an information portal (website) developed to assist Employers, Financial Planner and Consumers make informed choices when choosing a Superannuation Fund. Rainmaker SelectingSuper also published The Good Super Guide now in its 15th Edition in both printed and digital formats.